In honour of Pride month, I wanted to celebrate just a few of the much-loved LGBTQ+ characters on TV. These are all characters whose importance extends far beyond our screens.
In one way or another, they've all had an impact on someone's life. Maybe they made someone understand their identity. Maybe they helped someone to come out. Maybe they were a safety net to turn to in times of need. Or maybe they simply made someone finally think "hey, that's me.".
We all depend upon these characters for different reasons, but perhaps the defining one is how euphoric it feels to finally be represented.
Although there's still a long way to go (the Bury Your Gays trope needs to stay buried, more queer actors should be playing these characters, the representation can still be harmful and LGBTQ+ characters should be making up a more equal part of TV), over the years TV has slowly started to become more inclusive.
Here are just some of the best LGBTQ+ TV characters that have graced our screens:
Callie Torres (Grey's Anatomy)
Callie Torres is the longest running queer character in TV history, but that isn't the only reason why she's deserving of a place on this list.
Portrayed by Sara Ramirez (who is also bisexual), Callie taught us all the art of self-love and acceptance. This badass, bisexual Queen was one of the greatest gifts of Grey's Anatomy.
The Best ??? It's simple… The Queen @SaraRamirez ???????????? This woman made me who I am… I'm proud now To say I'm bisexual… One day she said "never give up and these words guide my life now !!! She is my model, my icon… A strong, Beautiful and awesome woman…

— Calédoval ?????????? ???????? ???????? Lifou (@RousseletValri2) June 29, 2018
Alex Danvers (Supergirl)
Alex Danvers' coming out arc was an incredibly beautiful piece of television. She's already been on quite the journey since coming out, with Sanvers sadly coming to an end, and has captured the hearts of thousands of fans.
Lito and Hernando (Sense8)
These two are so clearly destined to be together and provide great representation both individually and as a couple.
#Herlito #Sense8
They are cute, funny, romantic and sexy as hell. pic.twitter.com/ZaVbYlPT4n

— Mary's Song (@LeBombita) June 29, 2018
Hernando and Lito – growing and loving and evolving together, I love this couple so many.#sense8#NetflixSaveSense8 pic.twitter.com/jTQRGZig2y

— Sensate Heaven (@BRCHeaven) June 28, 2018
Root and Shaw (Person of Interest)
Root and Shaw are like no other characters I've ever seen on screen. What I loved was that their sexualities were never actually discussed, because there was simply no need to.
On their own they were powerhouses, but together they were even stronger.
Arizona Robbins (Grey's Anatomy)
Arizona Robbins, the woman who branded herself as "the gayest of gays" and "lesbianic", was an incredibly important character for the LGBTQ+ community. Her confidence, joy and openness provided the much needed positive represetation that TV still lacks.
Nomi and Amanita (Sense8)
These characters and this relationship exemplify everything we should be seeing in LGBTQ+ representation. Their dynamic is incredibly supportive and healthy, they got their happy ending and delivered some very powerful messages to all those watching.
Having a transgender actress (Jamie Clayton) play a transgender character (Nomi) is also worth noting, as it's great to see more LGBTQ+ actors playing these characters.
Lito & Hernando, Nomi & Amanita from #Sense8 because they represent the world as it should be, inclusiveness, acceptance & ?? #NetflixSaveSense8 pic.twitter.com/95Hf3LjGKK

— Peter Aarons (@PeterAarons) June 28, 2018
Clarke and Lexa (The 100)
There's simply no getting over these two.
Lexa's legacy will likely be spoken about for many years to come. Her brutal ending sparked an insane amount of much deserved backlash  over the treatment of LGBTQ+ characters in the media. Her character had everyone hooked from the second she walked on screen and her relationship with the shows bisexual lead, Clarke Griffin, created one of the most popular queer fan bases.
Kate and Emaline (Everything Sucks)
Kate and Emaline on Everything Sucks which is on @netflix. Kate's storyline is the best teen lesbian storyline ever done imo. The writers really cared about her sl not being exploitative and were incredibly respectful and it showed.

— Ash (@LelianaSera) June 29, 2018
Emaline was just starting to get awesome development towards the end of the season and she was a great character as well and was interesting representation as it's obvious in retrospect that she had some internal issues with being bi/gay and that was reflected in how she acted.

— Ash (@LelianaSera) June 29, 2018
Cosima and Delphine (Orphan Black)
Enchanté forever.
#OrphanBlack's #Cophine has always been put at the forefront. As the one romantic relationship of the show we'll remember the most. And I think it's fantastic that their story wasn't just about two girls who love each other. This show has such a good representation. pic.twitter.com/fW2cr9whYa

— Lisa (@OB_addicted) June 28, 2018
Shane (The L Word)
The L Word gave us so many memorable LGBTQ+ characters, but if I was to add one to this list it would have to be Shane.
After all these years, it's still Shane pic.twitter.com/Isf4td2x64

— Union Girl ???????????? (@Goddess8008) June 29, 2018
Rosa Diaz (Brooklyn Nine-Nine)
Rosa Diaz is another badass bi character played by a bisexual actress (Stephanie Beatriz). After championing from both the fans and the actress herself, Brooklyn Nine-Nine finally revealed that Rosa was dating a woman in Season 5.
Aaron (The Fosters)
Played by transgender actor Elliot Fletcher, Aaron provided a great character for the trans community to see themselves in. The Fosters truly broke ground with this character when their sex scene aired, which was beautifully portrayed in the same way that any other sex scene would be.
Santana Lopez (Glee)
I don't miss Glee, but I definitely do miss Santana Lopez.
Her coming out story broke so many hearts but her relationship with best friend Brittany quickly fixed them. Santana was feisty and flawless, would always tell it how is and fearlessly protected those she loved.
Elena Alvarez (One Day at a Time)
If there's one lesbian character that embodies the statement "I wish I'd have had someone like them when I was growing up", it's Elena Alvarez. Seeing an LGBTQ+ character so outspoken for what she believes in, so secure in who she is and so outspoken for what she wants is incredibly refreshing.
Emily Fields (Pretty Little Liars)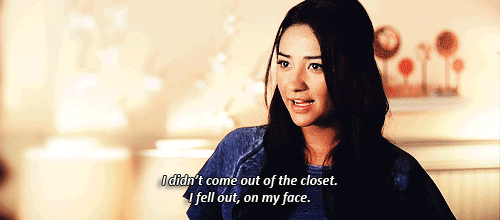 Pretty Little Liars started many conversations when Emily came out in Season 1, which aired back in 2010. At a time where LGBTQ+ characters were even harder to find than they are now, having a gay character on a teen show (on a family network) had a huge impact on so many young girls who were figuring out their sexuality.
Alec and Magnus (Shadowhunters)
Both Magnus & Alec make me feel like I can be unique and different without having to worry, and that true love really is out there! They'll forever be the characters I find comfort with & confidence from; their characteristics have become a part of my life!??#malec #malecparty pic.twitter.com/RnDpr1xPgL

— Mortal Academy (@MortalAcademy) June 29, 2018
Stef and Lena (The Fosters)
Stef and Lena were the heart of The Fosters and exactly the kind of family that TV needs to see a lot more of.
Ray Holt (Brooklyn Nine-Nine)
Captain Holt is represented so perfectly in Brooklyn Nine-Nine. His sexuality has never been the focal point of his character and his marriage to his husband Kevin is casually worked in as part of his story.
As well as getting to see him live proudly (the pride flag on his desk is adorable), the series also explores the hardships that he faces as a black gay man on the police force.
Sara Lance (Legends of Tomorrow)
For all the kick-ass, day-saving heterosexual superheroes we have on our screens, we definitely need just as many Sara Lance's.
Wow this is hard but I gotta go with my fellow bi and 'cause she's a badass #SaraLance pic.twitter.com/2psC0wW6rz

— Kristen Morgan (@Number_1Weirdo) June 29, 2018
Sophia (Orange is the New Black)
Orange is the New Black's entire ensemble is noteworthy, but this list had to feature Laverne Cox's Sophia. OITNB has a huge audience and having a transgender character provided representation for a hugely marginalised group. The exploration of her backstory also educated audiences on the hardships she's had to face to simply live out her life authentically.
BONUS FAN SUBMISSIONS 
Sydney and Jean (Gypsy)
Sidney and Jean #Jeaney from #GypsyNetflix . They're kind of f***ed up but they're extremely hot and cute together????????????Amazing chemistry between #NaomiWatts and #SophieCookson #RenewGypsy @netflix pic.twitter.com/Eu5tZnqV0r

— Me (@AM74726317) June 29, 2018
Waverly and Nicole (Wynonna Earp)
Wayhaught were undoubtedly the ship we all needed when the 'LGBT Fans Deserve Better' movement began.
No love for Wayhaught? The couple who buried the BYG trope with a bulletproof vest. And continue to offer positive LGBTQ rep on #WynonnaEarp. pic.twitter.com/GIJxr16iZ3

— B. Dailey (@B_Dailey13) July 1, 2018
These are just some of many amazing LGBTQ+ characters on TV, but who's your favourite?
Whether they're on this list or not, comment below who you love and why (and they may even get added on here)!
Happy Pride!